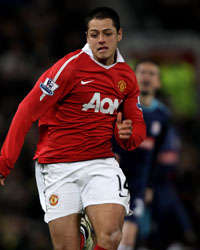 Yesterday saw some mega deals take place for United's rivals Chelsea and Liverpool. Luis Suarez went to Anfield for a fee of about 22 million pounds – fair enough proven goal scorer for Ajax and scored a couple of goals for his country in the World Cup. Fernando Torres left Liverpool for Chelsea for a bumper fee of 50 million – too much in my opinion, but when he is on form is one of the best strikers around. Yet the most staggering deal of the day was one for 15 million less. Andy Caroll joined Liverpool for a few of 35 million…. the man was outscored by the likes of Peter Whittingham, Charlie Adams, Peter Lovenkrands and others last season in the Championship yet half a good season in the Premiership where he has scored 11 goals (8 behind our 30 million man Berba) and now he is worth 35 million.
Sky Sports yesterday kept saying that Newcastle wanted to make it clear that they reluctantly let it happen… nonsense! I bet deep down inside there exploding with joy. They haven't done too shabby without him in the last few weeks when he was injured now if they can stay in the Premiership then they have the best part of a 35 million war chest to spend in the summer. One has to ask though how much can that buy now a days? 30 million use to get you the cream of the crop e.g Ferdinand, Rooney, Berbatov. Now it gets you an unproven goalscorer who has played for his country a whole one time!
People were going crazy when they heard Darren Bent left Sunderland for Villa for 24 million pounds, but I honestly thought that wasn't a too bad deal. Darren is a proven goal scorer and in the last few seasons has the same amount of goals as Wayne Rooney and Didier Drogba in the Premiership. Heck from being on the bench for a whole season he still managed to be Tottenham's top goal scorer in the 08/09 campaign.
It just shows how much of a gem Chicharito has been. For a tiny fee of around 6-7 million pounds the Mexican has scored in the World Cup, Premier League, Champions League, F.A Cup, Carling Cup and Community Shield and has managed 11 goals overall – the same total Andy Caroll has and in less starts too. Also Chicharito has scored the winning goal no less than six times, truly remarkable!
Full credit has to go to Jim Lawlor, the man who spotted Chicharito. If we hadn't spotted the lad and he still went on to have the World Cup he did, how much would have it had taken to buy him from Chivas? At least another ten million I reckon!
I saw a Liverpool fan try to reason the Caroll purchase by saying that you have to pay a bit more for a striker. Ya if you panic and don't know where to look. Personally I believed that they have just bought a slighty better Peter Crouch. I could be wrong he could be very good for Liverpool. However, to justify his ridiculous price tag he has to do a lot more than he has done at Newcastle. To think David Villa a proven goal scorer who was joint-top scorer in the World Cup and was part of the winning Spanish side cost less than Andy?
While Liverpool have their new multi-million man, I am quite happy with our seven million pound man with the knowledge that we have Welbeck and Macheda waiting for their chance to shine. Welbeck has been brilliant for Sunderland is he worth 20 plus million now?
Now we can see why Fergie keeps saying there is no value in the market and why he rarely ever buys in January. As Ferdinand says…the english market is gone mad!